Welcome to our Field Bred Springer Spaniel Emporium
We have two wonderful litters that are ten weeks old and getting ready to go to their new homes. They have completed all the hurdles required before heading out. The standard veterinary checks with their first shot and their second shots are all done. They are ready to meet their new families. If you are interested in a Springer for your family consider one of these super puppies. They are intelligent with a real willingness to please, they will be easy to train and will retain their lessons very well. They have been raised in our very busy home our grandchildren and more then a couple of friends have been over to visit, us or the pups, I suspect pups more then anything. They are as social a group as you will find anywhere.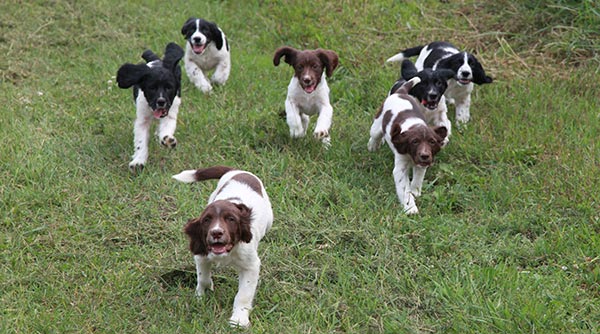 Three great looking and very happy Black and White puppies puppies were born 14 April 2013 out of Fionavar's Tulla and Fionavar's Sam. Three awesum Liver and White puppies out of Daisey and Rufus born on the 15 April 2013. If you are looking for a Springer Spaniel with a bit of zip to it check these puppies out. They will be great for that active family that needs a Springer to keep up with them.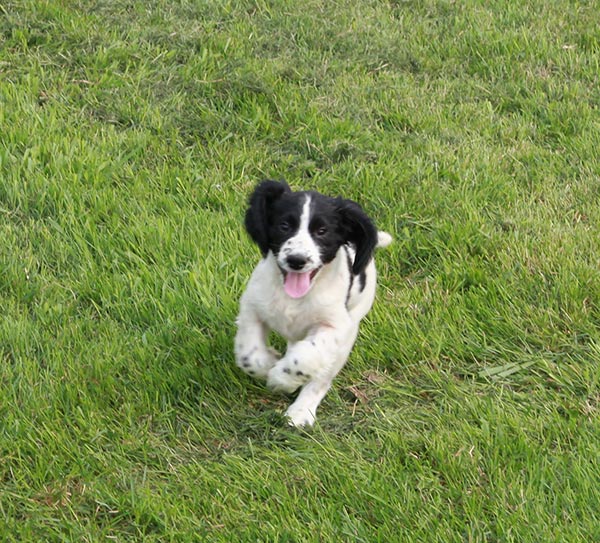 Fionavar Kennels - Field Bred English Springer Spaniels
We raise, train, hunt and just plain enjoy having fun with Field Bred English Springer Spaniels. Springers are the finest flushing dog to be found, in my humble opinion but most of all they are the best companion that an active family or individual can treasure. Springers are among the most versatile of hunting dogs fully capable of retrieving a shoot of ducks and geese as well as any type of upland game be it, pheasant, partridge, grouse, quail, woodcock or rabbit. Our dogs have gone on to excel in a wide variety of endeavors including detection dogs, explosives and drugs, therapy, companion, agility, obedience and of course hunting. We have started dogs, these guys are at various levels of training and experience. We have started dogs and some super young fellows that just coming into their own.

Your Pages
These are for you to see your Fionavar puppy, started, or trained Springer in action this is your opportunity to show your Spaniel to the world. So we need pictures this being a visual medium, send us you Fionavar Spaniel in action or for that matter at rest is also just fine.
As you can see we are still under construction and really willing to get some constructive help on the site. We can't see everything so please let us know if there are problems we appreciate your comments.

Kennel Pages
We have added new pages and updated others
The Puppy page shows the puppies that are available and ready to go these are the dogs that are under one year of age. All puppies are in training so all will have some obedience, how much obedience and training will determine the price.

The Boys of Fionavar and the Girls of Fionavar pages have been updated.

The Litters page shows the breeding plan for the near future we hope, mother nature has the final say.

There is a FAQ page and if you have a question please check out this resource it has the most frequently asked questions, there are no bad questions but we hope that this will answer most.